Red Snapper is one of the tastiest and most delectable fish in the oceans, and it is also a great fighter and a real workout pulling one into your boat. These two factors make fishing for these fun fish a priority for many anglers worldwide. The best place to reel in one of them is off the shores of the Gulf of Mexico. From the Florida Keys to the San Padre Islands in Texas, hundreds and hundreds of fishing spots will put you on the fish. Anglers start a pilgrimage to the Gulf for Red Snapper Season each year.
The season varies from State to State, but most start on or right after Memorial Day and end somewhere around the end of July to early August. During this time, anglers, both on their own private boats or aboard many of the charter boats, can bring in 2 fish per person on the boat, excluding captains and crews.
These fish have to be a minimum of 16 inches, but the giant Red Snapper can grow to 40 inches and weigh 50 pounds. Speaking of pounds, the season actually is dependent on the yearly pound quota set forth by NOAA. When this tonnage is met, the season ends, so while it may last till early August, it can also end earlier, so if you are deciding to go to the Gulf for a Red Snapper fishing expedition, you should try to book it as early in the season as possible. Also, you really need to book months in advance to ensure a spot on one of the charters leaving for the fishing grounds because of the demand.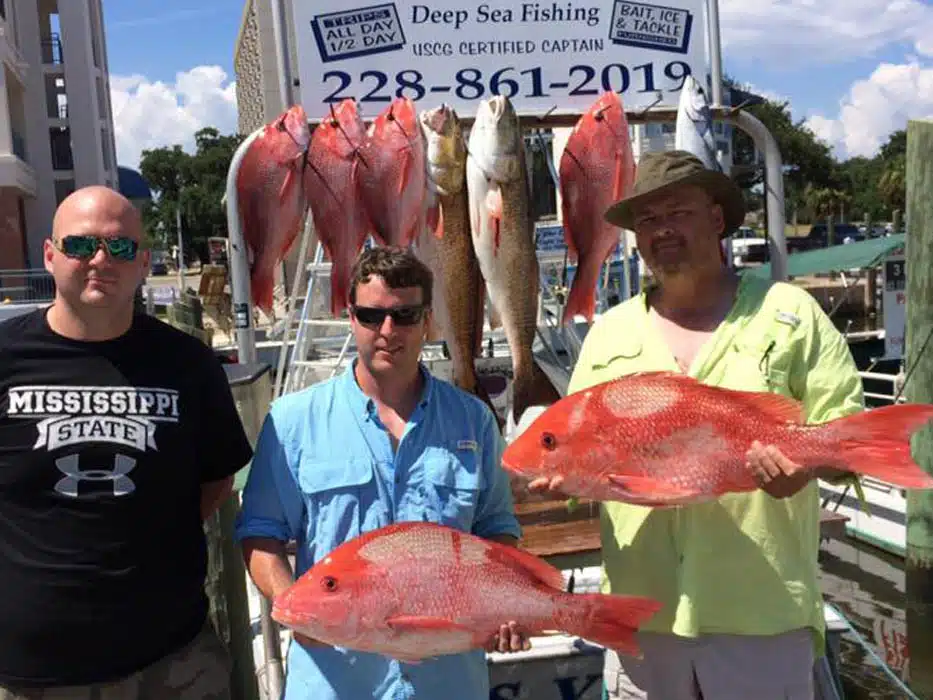 There are two fishing grounds, State, up to 9 nautical miles (10.35 miles), and Federal, that runs from the State border to 200 nautical miles offshore. The states and feds are in debate about whether the state line is only 3 nautical miles and not 9, but until this is settled, the 9-mile border is used.
To fish in either of these areas, you need special permits and fishing the deeper and very fruitful federal waters is not that easy because licenses to fish are hard to come by, and in fact, new ones have not been issued since the early 2000s.
This means that a limited number of charters can fish the federal waters, so you need to do due diligence when deciding which charter to hire. The state water licenses are not as hard to come by, but the fishing is not as good because of the number of boats trying to fish in the best spots in the area.
State And Federal Fishing Seasons
Each state has its own rules for the Red Snapper fishing season.
In Texas, the rules are the most relaxed in the Gulf. Here you can fish the state waters from January 1st all the way until December 31st, unlike federal waters, which are only open from June 1st until the quota has been reached. Texas is also the only state that allows four fish bagged per angler. All other state and federal regulations state a two fish limit per angler. Texas also has a 15" minimum length for Red Snapper caught, while the federal limit is 16" long. There is no state water season year-round in Louisiana, Mississippi, Alabama, and Florida, and Red Snapper can only be brought home during the season in these states.
The season in Louisiana is on the weekends only (Friday, Saturday and Sunday) from Friday, May 27th, until the quota has been reached. This includes Memorial Day, Fourth of July, and Labor Day holidays regardless of whether they fall on weekends.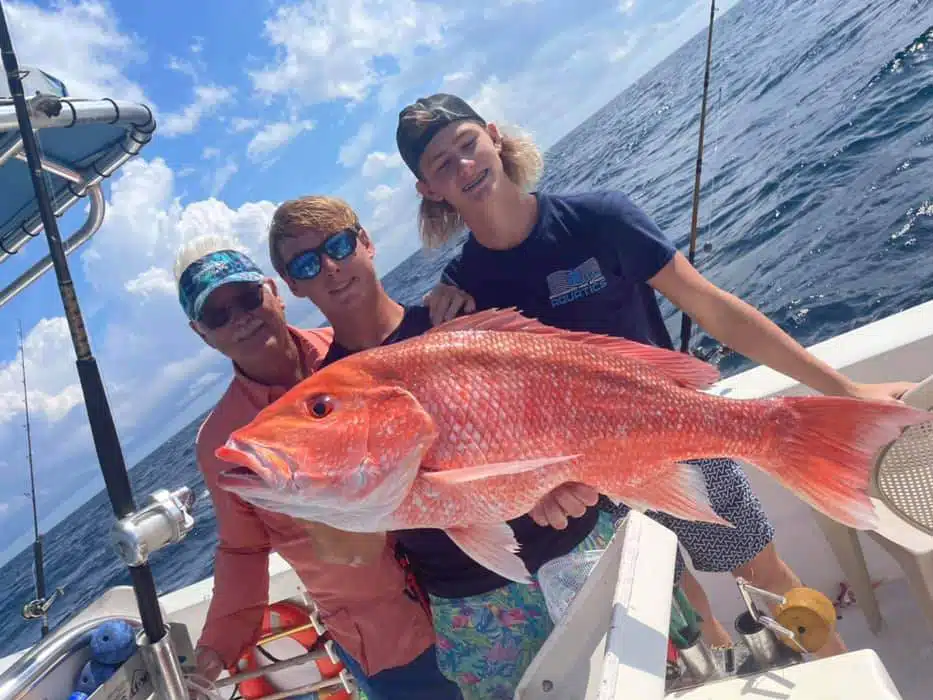 Mississippi's season is much shorter, starting on Friday, 27. 2022 but closing on July 4th, but fishing is allowed seven days a week. It may reopen if quotas have not been met.
In Alabama, anglers can fish Friday – Monday starting on May 31st until the quota has been reached again.
Florida anglers can fish Red Snapper for 57 days. There is a summer season starting on June 17th till July 31st (Monday – Friday). Then there is a second fall season consisting of three weekends in October, Saturday and Sunday 8-9, 15-16 and 22-23, as well as a long holiday weekend for Veteran's Day, Friday – Sunday, November 11-13 and a three day weekend the weekend after Thanksgiving, November 25-27. All four of these states follow the regulations set forth by NOAA of 2 fish limits, rules for hooks and size limits.
Florida anglers can fish Red Snapper for 57 days. There is a summer season starting on June 17th till July 31st (Monday – Friday). Then there is a second fall season consisting of three weekends in October, Saturday and Sunday 8-9, 15-16 and 22-23, as well as a long holiday weekend for Veteran's Day, Friday – Sunday, November 11-13 and a three day weekend the weekend after Thanksgiving, November 25-27. All four of these states follow the regulations set forth by NOAA of 2 fish limits, rules for hooks and size limits.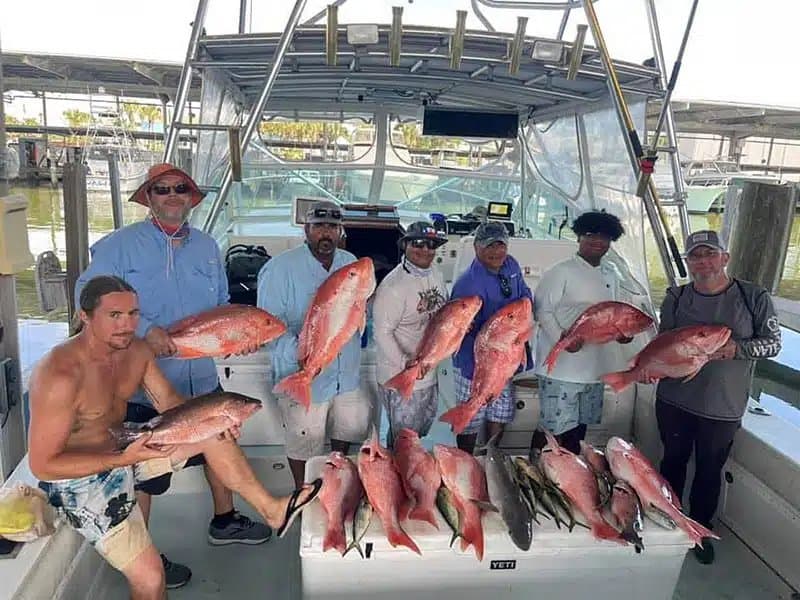 The Gulf region of Texas is huge, and there are many cities and spots along the coast that are ideal for Red Snapper fishing. Two of the best fishing grounds are located off Galveston and Freeport.
These two cities are just 45 miles away, but they have many different fishing grounds. Galveston has many artificial structures and jetties that attract Red Snapper in shallow water. As you go farther out in the Gulf, there are many oil rigs and more artificial and natural reefs for these fish to hide in.
Freeport's coastal waters are much different. It gets deep quickly off Freeport, so the opportunity of catching larger fish in the reefs is greater than in many other parts of Texas. These are both excellent for Red Snapper, but the beauty of fishing the Gulf is that once the quota for the charter is met, there are plenty of other tasty and feisty fish out looking for a bite. You might reel in some large Bull Mahi or even get lucky and hook into a Blue Marlin.
Louisiana Red Snapper fishing is mainly located south of New Orleans in the Venice and Grand Isle/Port Fourchon. Here you will find massive Red Snapper. In fact, the world record was caught here at a whopping 50.25 pounds.
So if you want to have the best chance of some giant fish, which means even more delectable fish on the dinner table, then Louisiana is the place to go. The waters in the state area can run deep, and there are many rigs that house tons of fish, including extra large-sized Red Snapper. At depths as shallow as 20 – 50 feet and as deep as 100 feet is where you will find them, the oil rigs are one of the best bets for catching them.
Alabama is home to Orange Beach, known as the "Red Snapper Capital of the World," and Gulf Shores. These cities have many marinas and charters that take you out to where the fish are. And while the number of Snapper is not as significant as in other places, the quality and size of the fish here are what anglers from all over come to catch.
The waters off Orange Beach and Gulf Shores are located just 9 miles from each other, so the waters off the coast are very similar. The Alabama coastline is only 53 miles, but with an extensive artificial reef system, this small area is prime fishing grounds for large Snapper.
Like its neighbors, Louisiana and Alabama, Mississippi has an excellent Red Snapper community. Fishing out of Biloxi and Gulfport will put you on large-sized fish close to shore. The waters off the coast of Mississippi are fertile and the perfect fishing grounds for bottom feeders like Red Snapper.
The fish get big. Some of the Red Snapper pulled out of the water here have been 40+ pounds. While fishing for the tasty Red Snapper, you will also probably come across other varieties of Snapper, including Mutton and Vermillion. There are numerous oil rigs and reefs where the Red Snapper calls home, like everywhere else in the Gulf.
Florida is believed to have the largest population of Red Snapper. This may be because the coast of Florida is so large, reaching from the Panhandle all the way to the Tip of Key West. On the coast is some of the best fishing anywhere in the states, if not the world.
There are many places to go for Red Snapper. Destin is one of the more popular areas for Snapper Season and all other fish, big and small. The sizable artificial reef attracts large Snapper just looking for your hook, and offshore in the deeper water is where giant-sized Red Snapper lives.
A relative newcomer but quickly becoming a destination for anglers looking for the Red Snapper is Tampa. A pipeline runs all the way to the Louisiana border, which is a prime fishing ground for Red Snapper and many other fish. The Red Snapper are in great numbers near the junction boxes in about 70 – 200 ft. of water. These are just two of the numerous great fishing spots dotted all up and down the coast.
There are a few ways to catch Red Snapper. Red Snapper loves to hang out in artificial structures and wrecks, natural reefs, ledges, and more in depths as shallow as 40 ft and as deep as 300+ ft.
Red Snapper are voracious fish and are pretty easy to catch. These fish are not that hard to actually hook because they will gulp down anything that moves near them, so you are golden if you have live bait and are in the right spot. Once you feel the bite be patient because there will be the all-important second bite when the Snapper gulps down your bait. If you use bait that is not live, you will have better chances of catching triggerfish, grouper, and other bottom fish.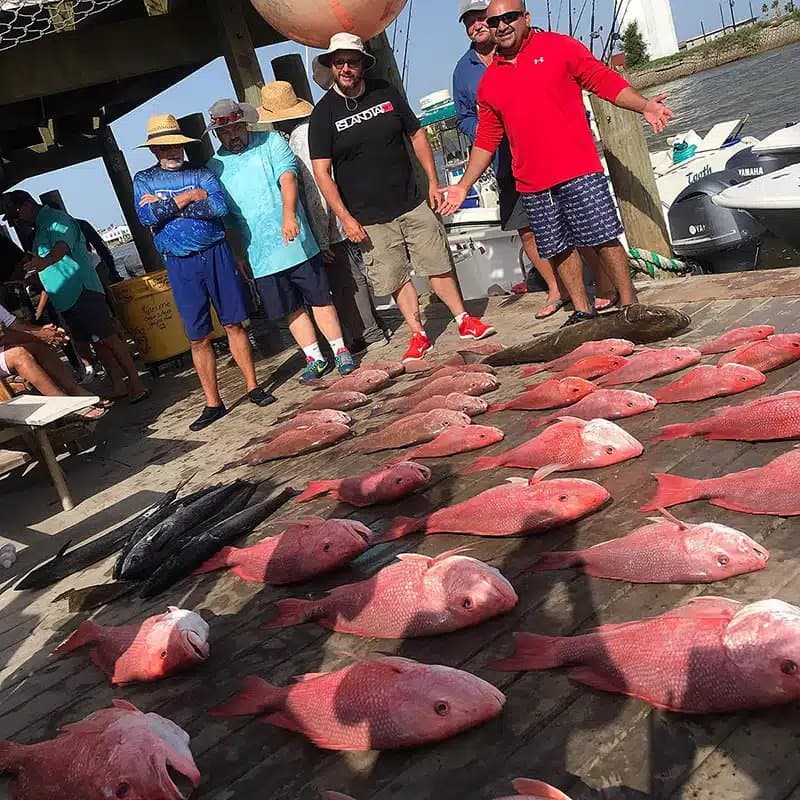 Around 60-feet, light ocean tackle, heavy spinning, and bait cast reels will do the trick in the water. But if you go further out in the Gulf deep dropping, you will need heavier weight rods and strong fishing lines up to the 80-pound test. Because the larger fish tend to stay a little above the bottom where the smaller Snapper congregate, it is recommended to use the lightest weight sinker that will still hold the bottom, so it will travel through the feeding zone much slower and give the big fish a chance to bite.
The hook for Red Snapper, especially during the season, is a non-stainless-steel circle hook. Circle hooks set naturally due to the shape of the hook's point angling towards the shank if you slowly reel your fish in.
Circle hooks are required to decrease the death of fish by not hooking them in the lips. They also prevent "gut hooking," which means more hooks in the mouths of the fish. Some charters like to chum the waters, which is a great way to bring the Snapper to the surface and many other tasty fish. However, the blood in the water also attracts many sharks, which tend to chomp down the fish that you were hoping to chomp down for dinner that night.
Come To The Gulf For The Time Of Your Life
Red Snapper is a fun fish to catch. It is one of the most sought-after fish in the world, and because it was being fished out of existence, there is only the one to two month season that they can be brought home.
You can catch these fish any time of the year, but except for Texas, you will have to throw them back to live another day except in June and July. If you come to the Gulf of Mexico in the summer, you will leave with a freezer of fish and lasting memories you can tell your friends and grandchildren about. And don't forget to book a charter for next year before you leave so you can ensure another day of great fun and action on the water.