Grouper are one of the most sought after and targeted fish in Florida, both on the Atlantic Ocean side as well as the Gulf of Mexico, because their flesh is tender, sweet and delicious.
Anglers worldwide know that they are one of the best-tasting fish in the sea and a true treat. You have not lived until you have tried a grilled blackened Grouper sandwich, preferably on the beach with a refreshing cocktail or beer to chase it down.
Their bodies can be massive, and they have extra-large mouths with many sharp teeth. They are very aggressive fish, fighting and eating anything that moves near them. They are bottom feeders and vary in color and size, although usually very large. Like many other bottom-dwelling fish like Snapper and Sea Bass, they are highly sought after and delicious fish. They are a treat for any seafood lover with tender and sweet flesh, and you haven't lived until you eat a grilled or blackened Grouper sandwich.
Grouper are found in Florida more than in any other part of the world. Many locations are known for excellent Grouper fishing throughout Florida, on the Atlantic coast and the Gulf of Mexico.
A few places are known for the Grouper population in their waters in the Gulf. North towards the Panhandle, you have Pensacola and Destin. Tampa and Clearwater are in the middle of the coastline, and down south, we have the Florida Keys.
Destin has some of the best Grouper fishing in Florida and one of the largest fleets in all of Florida to take you out to catch them. Located at the eastern end of the Florida Panhandle, many different species, including Black, Red, Scamp, Gag and Goliath Grouper, are found in the waters off the coast.
One of the beautiful things about fishing in Destin is that the deep waters are not a long drive out and back. Now the deep water is close and it is full of all of the fish you want to catch including large sized Groupers.
With one of the most active artificial reefs that house thousands of fish, including Grouper, Destin is one of the best places for fishing for Grouper and every other sport fish you would want to catch. Along with the incredible fishing on the artificial reefs there is also excellent Grouper fishing at the wrecks that dot the shore as well as some fertile natural reefs.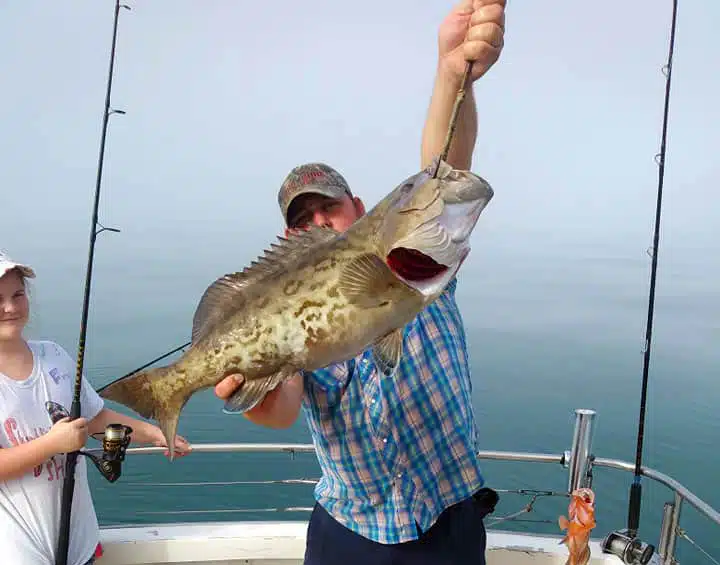 Some of the more popular spots for Destin fishing charters are the Miss Louise, a sunken tugboat home to Gag Grouper and a host of other fish, the sunken Destin bridge and an array of army tanks about two miles offshore Grouper prefer warmer waters which is why the Florida's Gulf Coast and Destin are an ideal habitat.
When you come to Destin prepare for a day of action. With many species of Grouper but also a whole slew of other fish you will be sure to bring a full cooler home with you full of tasty Black, Red, Scamp and Gag Grouper (Goliath are not able to be brought home, or even into the boat)
Pensacola is located at the border of Florida and Alabama at the tip of the Florida Panhandle Pensacola is home to the Oriskany Memorial Reef or as locals call it "The Great Carrier Reef" because it is a 900 ft. sunken aircraft carrier, which is the most extensive artificial reef system in the world and home to millions of fish Included in these fish are Black Grouper, Red Grouper, Gag Grouper, Scamp Grouper.
The reef system is so large it is impossible for you not to run into many Grouper hiding throughout the reefs just waiting for a meal to come around If you go further offshore, where you have to deep drop you can find Red Grouper as well as more rare species like the Warsaw and Snowy Grouper.
There are over 12,000 fishing spots to choose from in Pensacola A few of the hot spots, along with the Oriskany, for Pensacola fishing charters are the Trysler Grounds, a natural hard/live bottom with ledges and rocky structures that stretches across a large area and the Underwater Cypress Forest which is a massive area of petrified trees uncovered during Hurricane Katrina It is home to fish both small and large hiding between the tree trunks and the rocky ledges with perfect for giant Grouper.
Crystal River is unique as it is most known for its shallow Gag Grouper fishing. While most places in the state need to go at least 30-60 ft. deep in Crystal River, you can catch decent-sized Gag Grouper in less than 20 feet of water. The best time to come to
Crystal River
is October to December, but you can catch them year-round in these shallow waters.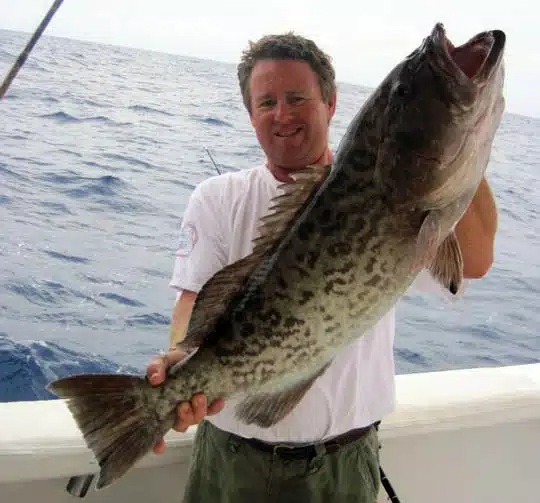 Tampa, Clearwater, St. Petersburg
This vast area encompassing Tampa Bay, one of the most fertile waters in Florida, is home to many species of Grouper. In Tampa and St. Petersburg, you will primarily target Red and Gag Grouper. While in Clearwater, Black, Scamp and Goliath Grouper are the most found.
Grouper can be found in Tampa Bay channels if you look for the right structure of rocky areas, ledges, and wrecks. Gag and Red Grouper in Tampa are fantastic, with bites in the shallow 30 ft. waters of the Bay all the way out to 100+ ft. deep for larger-sized fish.
Offshore, you can battle with giant Black Grouper, and Scamp Grouper. Tampa has a few hot spots to check out that Tampa Fishing Charters take anglers to. First is the Sunshine Skyway Bridge, or under the pylons, where there is excellent Grouper action. There are also a few very popular reefs.
The Inshore Reefs of Pinellas Beaches are home to a very fertile population of Grouper and Snapper. Clearwater Fishing Charters target the Clearwater Reef for a great day of reef fishing for giant Grouper. St. Petersburg is home to many artificial reefs that attract many fish and many St. Petersburg fishing charters. There is a 200-foot barge, sunken bridge material from building the Skyway Bridge and 10 U.S. Army tanks, all of which attract many types of Grouper.
One of the best places to catch Grouper in Florida is the Florida Keys. The Florida Keys are actually around 1,700 islands that border both the Gulf of Mexico and the Atlantic Ocean. This gives them the added bonus of being able to fish on both sides of the state. So, you can find all 19 different species of Grouper in Florida in and around the waters of the Keys.
The big three targets are the Gag, Red, and Black Grouper, but others are sought-after, especially deep dropping off the coast in 300+ waters. Snowy Grouper and Yellowedge are both popular because of their incredible taste. While deep dropping, you can also hook up with Misty Grouper and Speckled Hind, Rock Hind and Red Hind. One beautiful thing about fishing in the Keys is that you can target Grouper directly by going to the reefs for an all-day fishing charter. Or many of the charters, after a long day of offshore fishing, will stop at the hot spots for Grouper on the way home, giving the anglers the best of both worlds.
There are so many places to fish for Grouper in the Florida Keys. Still, a few of the most popular are Key West, Islamorada and Marathon. Each has its charm and attracts many fish species, including the many groupers found in the Gulf and Atlantic. Key West is the southernmost point in the U.S., just 100 miles from Cuba. Marathon is halfway between Key Largo at the beginning of the Keys and Key West, and Islamorada is halfway between Marathon and Key Largo. You will not be disappointed no matter where you decide to go for your Grouper fishing trip.
Islamorada is known as the "sports fishing capital of the world" because of the incredible fishing. Islamorada has several wrecks created to make artificial reefs where many sports fish species, including giant Grouper, can make home. Eagle Wreck is one of the best of these wrecks, with large predator fish having their fill of the abundance of smaller fish roaming the wreckage. Spiegel Grove is also a great example of artificial reefs in the area.
This is the intentional sinking of the USS Spiegel Grove so that it could sustain a fertile habitat for many fish, including Grouper. Baitfish are abundant near this wreck, providing plenty of food for the larger species. Spiegel Grove is another wreck that was intentionally for fishing and diving.
Marathon has some of the best fishing in the Florida Keys. There are plenty of fertile reef systems and wrecks offshore, providing great spots for finding large-sized Black, Gag, Red and Scamp Grouper. There are the Sombrero Reef and The 7 Mile Bridge Reef. The Thunderbolt Wreck is an intentionally sunk ship in 120 feet of water, providing a home to numerous fish.
Key West has many wrecks and reefs up and down its coastline. These coral reefs and artificial wrecks are great spots for catching various Florida fish and make excellent fishing grounds for large-sized groupers. A popular hotspot in Key West is the Key West Tournament Reef. Two large ships sunk to provide shelter and artificial reefs for predator and prey fish of all sizes. This reef is in 180 feet of water.
Other popular sites are the Adolphus Busch, a 200 ft. former cargo ship, the Hoyt S.Vandenberg, a 500ft. ship 7 miles off Key West in 145 ft. of water and Joe's Tug, a 90′ tugboat 65 ft. deep. These and more structures off the coast provide excellent fish habitat. In Key West, along with the three major Grouper targeted throughout the islands, Scamp Grouper is also found in numbers. This is a delicious fish that is said to be one of the best in the world.
All of the Florida Keys have excellent reef fishing nearshore however, when you leave the comfort of the reefs and head deep, 300+ ft. deep, you will find some of the enormous Grouper and many rarer Grouper like the Snowy Yellow Edge, Misty and the Speckled Hind Grouper.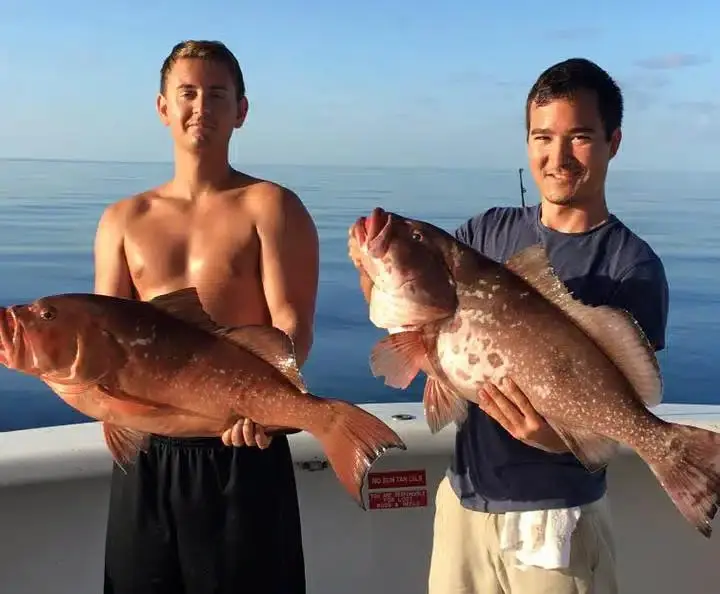 The "Magic City" can be magical for anglers who desire Grouper of all sizes and species. Miami offers many drop-offs and ledges, wrecks and reefs, and other underwater structures that attract giant Groupers and other bottom feeders. Here you can find the three main Grouper; Red, Black and Gag, but also Scamp, Goliath, Warsaw and rarer breeds like Speckled, Rock and Red Hinds, Snowy, and Yellow Edge Grouper.
These fish live in the two hundred fifty wrecks and rocky structures. If deep dropping is your thing, you are bound to encounter one or more of them at the many hotspots like the Bache Shoal and Liberty Ship with drops of up to 400 ft, both south of the city and Haulover Inlet north of the city.
The Government Cut is also an excellent place for Black Grouper. There are also over 60 deep drop spots in 800 ft. to 1200 ft. of water for real giant monster Grouper. Biscayne Bay is not known as an excellent place for Grouper, but there are Gag Grouper in significant numbers in the Bay. If you troll the Intercoastal Waterway, the bridges and other sites with rocky ledges and underwater structures, you will catch a slew of these tasty fish. Florida is one of the best places for Grouper, and Miami is known as one of the best places in the state for incredible Grouper fishing.
Fort Lauderdale is an excellent place for an action-filled Grouper action because it has so many places for them to hide and hunt. You can enjoy deep-sea fishing off the coasts of Deerfield, Pompano Beach, Hillsboro and Dania Beach. All of these spots have rocky structures, reefs and wrecks galore. Fort Lauderdale fishing charters can target hundreds of incredible hotspots for great Grouper fishing.
Florida is the Best Location in the World for Grouper Fishing
Florida is, without a doubt, the choice for anglers looking to fight a Grouper. So many of these Grouper make delicious meals and fight for their lives, although this fight is not for long for the smaller ones. There are so many fishing spots all along the Gulf and Atlantic coast. This was only a teaser of where these fantastic fish can be found. If wrestling with a Goliath or a bag full of tasty Grouper is on your bucket list, then head to Florida, where you will be able to check those off your list. And while Grouper fishing, you might be able to check off a whole lot more in the process.