Welcome to the picturesque fishing towns and lively cities of the Niagara Falls area, steeped in rich angling traditions with water teeming with life. Located along the shores of the mighty Niagara River and the vast Lake Ontario, these charming towns offer some of the most exciting and diverse fishing opportunities in Upstate New York. Many charter fishing companies are available all along the river from Buffalo to Youngstown. Experienced local captains and crews know the fish and where all the hotspots are to make your day on the water some of the best memories of your life.
Buffalo: An Urban Fishing Experience
Buffalo's fishing charter scene is an exciting and diverse community that offers anglers of all levels an unparalleled experience. With easy access to Lake Erie, Lake Ontario, and the Niagara River, Buffalo hosts a range of fishing opportunities. There are options for 4-12 hour fishing trips. Whether you're a seasoned angler or a beginner, there's a charter experience waiting for you. From chasing the thrill of landing a trophy fish to enjoying a tranquil day out on the water, Buffalo's fishing charter scene truly has something for everyone.
Niagara Falls: Where Nature Meets Adventure
In Niagara Falls, fishing is as thrilling as the city's famous waterfalls. The fast-flowing Niagara River here is a hotspot for Salmon and Trout, attracting anglers from around the world. Charter services offer the chance to land a big catch amidst the breathtaking beauty of the falls. Take a half-day or full-day trip out looking for a trophy fish to make all of your buddies jealous. No matter your experience, fishing at Niagara Falls promises an unforgettable adventure. So grab your rod and reel, and get ready to experience fishing like never before.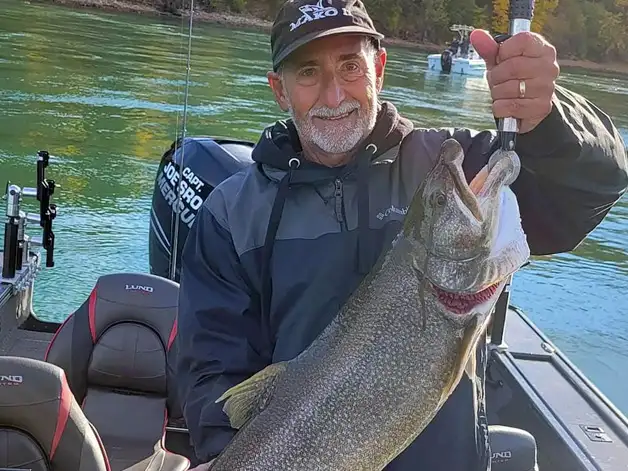 Lewiston, NY, located along the lower Niagara River, is a prime location for fishing enthusiasts with its serene waterfront and picturesque marina. The river's cool, swift waters are teeming with a diverse array of fish like Salmon, Trout and Walleye, making Lewiston a must-visit destination for any angler. The town's charter services offer guided trips into the river and lake, where anglers can reel in Chinook Salmon, Steelhead Trout, and Walleye with local guides providing their expert knowledge of the waters, ensuring a rewarding experience for all.
Youngstown, NY may be small, but its fishing scene is mighty. The town's fishing charters offer professional, knowledgeable fishing guides and unparalleled access to the productive waters of the Niagara River and Lake Ontario. The Niagara River and Lake Ontario are particularly known for their Salmon, Steelhead Trout, Smallmouth Bass, and Walleye populations. The seasonal migrations of these species make Youngstown an exciting spot for anglers throughout the year. Youngstown's fishing scene promises a rewarding and memorable adventure.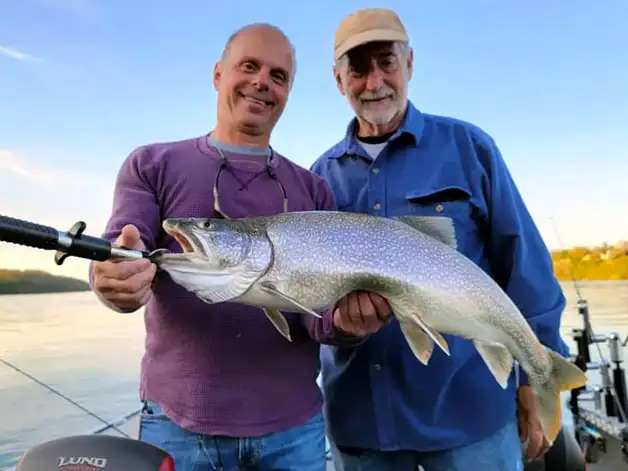 Four Unique Towns, One Incredible Experience
Each of these  New York towns offers a unique fishing experience shaped by the distinctive character of its waters and the warmth of its community. Whether you're seeking the adrenaline rush of battling a mighty Salmon, the satisfaction of reeling in a Walleye, or the tranquility of casting a line amidst stunning natural beauty, you'll find it in Lewiston, Niagara Falls, Youngstown, and Buffalo. So grab your fishing gear, hop on a charter, and embark on a fishing adventure like no other.
.