Nestled along the Gulf Coast of Texas, Freeport is a prime destination for avid anglers seeking an unforgettable fishing experience. Among the many treasures the Gulf has to offer, red snapper stands out as a prized catch, drawing fishing enthusiasts from all over. Red snapper fishing in Freeport, Texas, promises thrilling encounters and the chance to reel in these beautiful and delectable fish.
Red snapper (Lutjanus campechanus) are vibrant, medium to large-sized fish found in the Gulf of Mexico. Known for their striking reddish color and sharp canine teeth, red snappers are a sought-after species for both sport and culinary reasons. Their firm, flaky flesh makes them a popular choice among seafood lovers, while their spirited fight makes them a challenge for even the most experienced anglers.
Red Snapper Fishing Season
The red snapper fishing season in Freeport, Texas, offers a limited but exciting window of opportunity for anglers. Historically, the season has typically taken place during the summer months when the waters are warm and the snappers are most active. However, it's essential to stay updated with the latest regulations and announcements from the Texas Parks and Wildlife Department (TPWD) or local authorities to ensure compliance with current fishing seasons.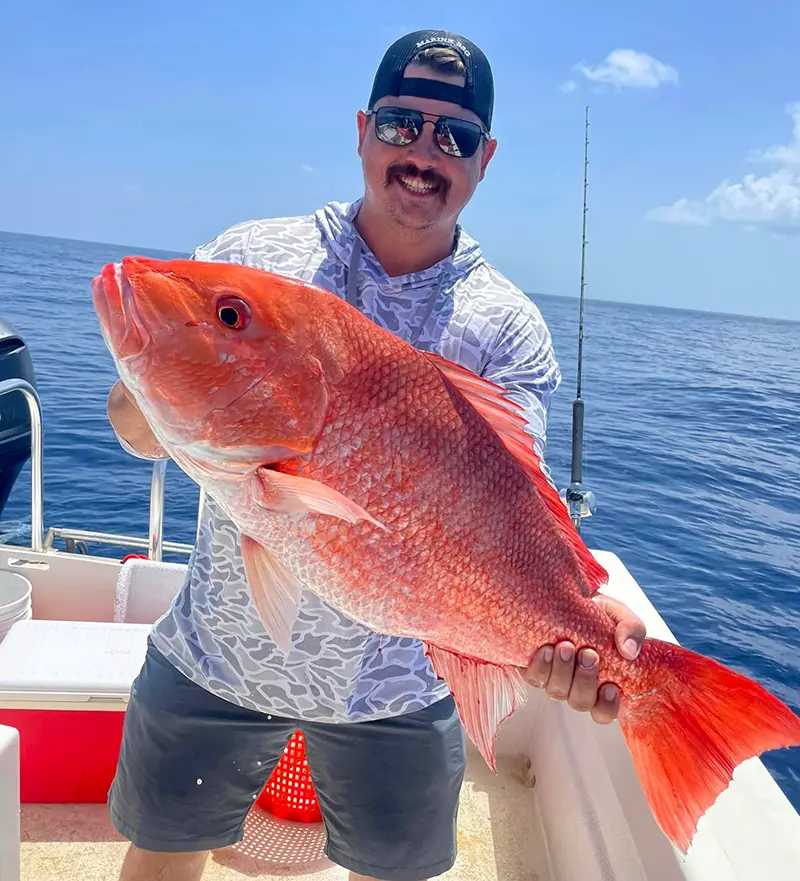 Ensure a successful red snapper fishing expedition by arming yourself with the right gear. Opt for a medium to heavy-duty fishing rod and reel, ideal for offshore fishing, to handle the vigorous battle with these robust fish. Enhance your chances by using a braided line, offering increased sensitivity and durability for deep-water fishing.
Red snappers are opportunistic carnivores, and they respond well to a variety of baits. Opt for live or cut bait such as pilchards, pinfish, and squid. Alternatively, artificial lures mimicking small fish can also be effective in enticing them to strike.
Where to Catch Red Snapper
Red snappers tend to congregate around reefs, wrecks, and natural structures, where they find shelter and prey. Look for underwater structures on nautical charts or use GPS devices to locate potential fishing spots. Consulting local fishing guides can be highly beneficial in finding the best locations.
Bottom fishing is the most common and productive technique for catching red snapper. Lower your bait to the sea floor, allowing it to attract the attention of snappers lurking below. When you feel a tug on the line, give it a moment before setting the hook to ensure a secure catch.
Red Snapper Regulations in Texas
As responsible anglers, it is vital to be aware of and comply with red snapper fishing regulations in Texas. The TPWD sets specific guidelines on size limits, bag limits, and fishing seasons to maintain the sustainability of the red snapper population. Before embarking on your fishing trip, familiarize yourself with the latest regulations to protect these valuable fish for generations to come.
Hire a Charter Captain For the Best Outcome
For an unmatched red snapper fishing adventure in Freeport, Texas, consider booking a professional fishing charter. Experienced captains with local knowledge will guide you to the best fishing spots and share valuable tips on successful red snapper fishing. Fishing charters provide all the necessary equipment, ensuring a stress-free and enjoyable fishing experience for anglers of all levels.
Red snapper fishing in Freeport, Texas, offers anglers a thrilling pursuit and the chance to capture these prized fish in the sparkling waters of the Gulf. Equipped with the right gear, knowledge of regulations, and the guidance of a professional fishing charter, you'll create lasting memories and take home some delicious rewards from your red snapper fishing expedition in Freeport.