Some of the best fishing in the Gulf of Mexico is found off the coast of
Gulf Shores, Alabama
. With less than 10,000 residents, this small community is nicknamed "Small Town, Big Beach."Many flock to the beaches to swim and relax, but true anglers know that this is prime fishing grounds for inshore, nearshore, and offshore fishing. Gulf Shores has excellent inshore fishing year-round. There are always fish waiting for your hook from the bays to the bayous. The fish of choice is
Redfish
and
Speckled Trout
, which are available throughout the year, but many other fish species are in these waters at different times of the year. Redfish are a popular fish for their fighting prowess and for their delicious taste, and you can find them in great numbers here in Gulf Shores. In fact, Gulf Shores may be the best place in the entire Gulf area for this fish. When you fish for Redfish, you are bound to come upon schools of Speckled Trout as well as they make the waters of Perdido Bay, Mobile Bay, Little Lagoon and the backwaters home as well.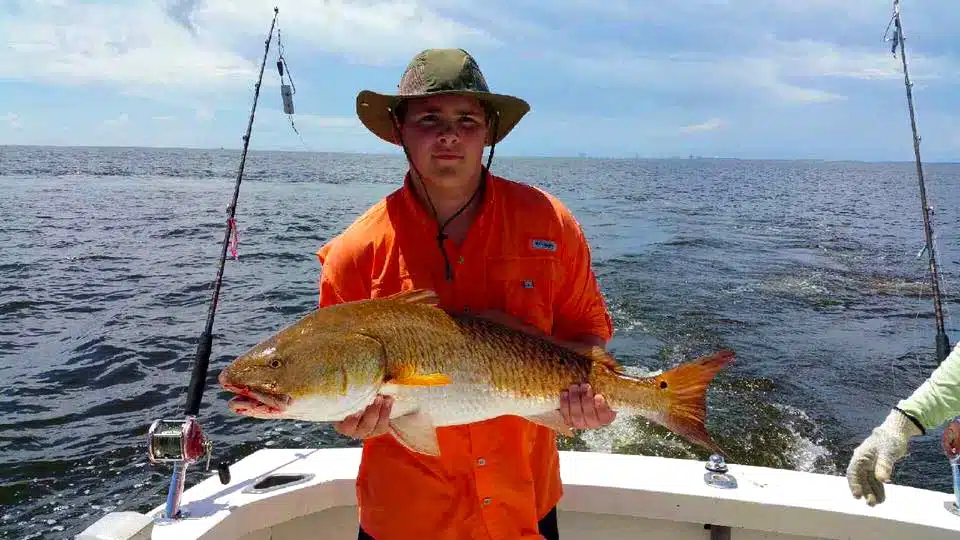 Other fish you may come in contact with are Pompano: from March to October, with a peak time in July and August; Sheepshead: from February to May, with a peak time in March; Black Drum: from March to October, with a peak time from May to June, Flounder: from April to October and Tarpon: from May to September, as well as other fish including Jack Crevalle, Sea Trout, Bluefish and Kingfish.
Nearshore fishing is within 10 to 20 miles from the shore. It is easy to get to this area, and in Gulf Shores, there are plenty of places to drop your hook. Gulf Shores has over 17,000 artificial reefs and is, in fact, one of the largest artificial reef systems in the world, and many fish call these reefs home. On any given day, you might encounter Bluefish, Cobia, Flounder, King and Spanish Mackerel, Pompano, Sharks of all kinds and many varieties of Snapper, including the most sought-after in the Gulf, the Red Snapper.
Offshore the reef system continues, and farther out, you have the oil rigs and even farther is the deep blue Gulf of Mexico waters. The oil rigs are around 75 miles offshore, and you need to go 100 miles or more for the giant monsters of the Gulf. In the reef system that does stretch far offshore, you can find the same fish as at the nearshore reefs with other species, including Grouper, Greater Amberjack, Wahoo, Mahi Mahi and Tuna. However, you need to head out to the oil rigs and deep waters to find most of these big game fish. It does take some time to reach your destination offshore, so you should plan on a long day, a night trip or even a few days on the sea. Out over 100 miles offshore, the Blue and White Marlin, Swordfish, and Tuna, can also be found here, along with Wahoo and Dolphin.
In Alabama, there are some rules and regulations you need to adhere to. If you are on a charter boat, those rules will be strictly enforced, but you must be advised if you venture out on your own. First, you need to have a valid fishing license. When you go on a charter, there is a permit that allows the guest of the charter boat to fish the waters of Alabama. Second, are the fishing seasons. These are strictly enforced with heavy fines. There is a $500 fine for Red Snapper and $50 per fish. There is also an Amberjack season and Triggerfish season. There are, of course, also size limits and a limit on how many fish you can bring home for each species as well. Professional guides know all of these regulations and ensure that the fisherman under their charge will know what is right and wrong and provide a happy, fun time on the water.